Here are all the barriers to turning hotels into permanent housing
In New York City, where the related crises of affordable housing and homelessness are a constant battle, there's been a flurry of headlines about new steps that could hasten the conversion of failing hotels into permanent affordable housing. In Albany last month, lawmakers doubled funding for the effort up to $200 million. Additionally, Gov. Kathy Hochul penned legislation clearing some red tape to make it simpler and swifter for nonprofit developers to repurpose hotels into affordable housing – not just in the city but statewide.
"As New York's housing crisis continues to impact families, we're taking bold action, embracing innovative ideas and thinking outside the box to help ensure that New Yorkers can access safe, livable and quality affordable housing," Hochul said during the signing of the hotel conversion legislation. "This new law allows us to tackle the affordability crisis head-on and convert empty, underutilized spaces into homes."
The cash infusion and red tape snips – primarily one that allows hotels to skip the onerous process of getting a new certificate of occupancy before starting a conversion – were meant to address the fact that, since the state allotted $100 million for the effort a year ago, under a bill called the Housing Our Neighbors with Dignity Act, not one conversion has taken place. But the new money and tweaks may still not be enough to push the effort forward because there are so many other barriers.
One issue in last year's bill was for hotels that could be converted to permanent housing, the union for the hotel workers – usually the Hotel Trades Council – must approve of the conversion. "And the union is not going to allow the conversion of any unionized hotels because they want to keep those hotels open to keep jobs for their union members," said Charles King, CEO of the nonprofit Housing Works, which develops both permanent affordable and temporary shelter housing.
The majority of Manhattan hotels are unionized, likely nixing the chances of them becoming conversions, said King – especially now, as tourism starts to rebound and visitors usually prefer to stay in Manhattan.
On the other hand, only about 15% of hotels in the outer boroughs are unionized, according to Vijay Dandapani, president and CEO of the Hotel Association of New York City. "Housing advocates think there are at least 170 hotels … that this bill will now permit conversion to," said state Sen. Brian Kavanagh, who sponsored this year's bill. That high number, he said, was partially due to yet another tweak that said hotels no longer have to be in a residential zone as long as they are within 400 feet of one so that there would be access to amenities like groceries and drugstores.
But Dandapani noted other roadblocks. For one thing, he told City & State, conversions to affordable housing require the installation of a kitchenette, which is often not easy or cheap to do in units with preexisting walls and plumbing. There would also be a minimum square footage per unit requirement, which could mean having to combine two hotel rooms into one unit and then reconfiguring the two bathrooms – also a major undertaking.
Kavanagh acknowledged this. "They're not free," he said of such conversions, "and we're going to have to invest real dollars, but it's still cheaper and quicker than creating brand-new permanent affordable housing."
And yet another barrier, according to Dandapani, was a new city rule passed late last year that any new hotel construction in the city had to go through a long, complex and costly community review process. That'll likely mean fewer new hotels being built. "Many of these hotels in the other boroughs will become more valuable as business starts coming back, so the incentive to sell (for a conversion) will be diminished," he said.
Kavanagh agreed, saying that the bill was aimed at severely financially distressed hotels. "We don't want to create more affordable housing at the expense of the tourism industry or the hotel jobs it creates," he said. "But the perception is that there are still many hotels that'll be underused for the foreseeable future."
Then, of course, there's almost always some degree of community opposition to any deeply affordable or shelter housing. In Manhattan's Chinatown recently, where a homeless man was charged with fatally attacking an Asian American woman in February, fierce community opposition played a role in nixing two proposed shelters.
But Housing Works' King in May told The New York Times the real reason for the Chinatown conversion that Housing Works was going to oversee was the mayor bowing to the Hotel Trades Council's wishes – even though, with shelter conversions, the need for union approval was not enshrined in law as it was for permanent housing conversions. King said that Gary Jenkins, the city's commissioner of social services, told him that.
"It's really clear to me that the mayor is more concerned about pleasing this one union than he is about addressing the needs of homeless people," King told the Times.
A spokesperson for the mayor did not reply to a question asking if that was true. Asked if the mayor – who received his first major labor endorsement from the Hotel Trades Council during his campaign last year – would routinely cater to the union's wishes on proposed hotel-to-shelter conversions, another mayoral spokesperson replied via email: "All shelter-siting decisions have been and will continue to be guided by the mayor's commitment to working with communities to understand their needs and siting high– quality shelters equitably across all five boroughs."
With all these barriers, Dandapani said he "wouldn't be shocked" if the city saw as few as five hotel-to-housing conversions in the next five years. Of about 130,000 hotel rooms in the entire city, he said, 20,000 of them remain closed. "But that doesn't mean they'll be closed (to tourists) forever."
At the height of the COVID-19 pandemic, he said, his association worked with the city to convert up to 20,000 unused hotel rooms to temporary shelter for homeless New Yorkers. He said that experience gave him an insight into special needs when housing homeless people, such as enhanced security and mental health services.
But Kavanagh insisted that his bill, featuring both more money and logistical loosening, will yield fruit. "This bill had a very broad range of support among people who know how to develop affordable housing," he said, "because they believe there are many sites that can be redeveloped in a cost-effective and quick process." He declined to name examples of talks already underway on certain sites in the city.
Outside the five boroughs, however, he pointed to Kingston, about 100 miles upstate in Ulster County, where a Quality Inn is being converted, with Housing Our Neighbors with Dignity Act funding, into 81 units of affordable housing by the nonprofit affordable housing developer RUPCO Inc.
"It's not simple," Kavanagh said of the effort overall, "but neither is developing affordable housing on vacant lots."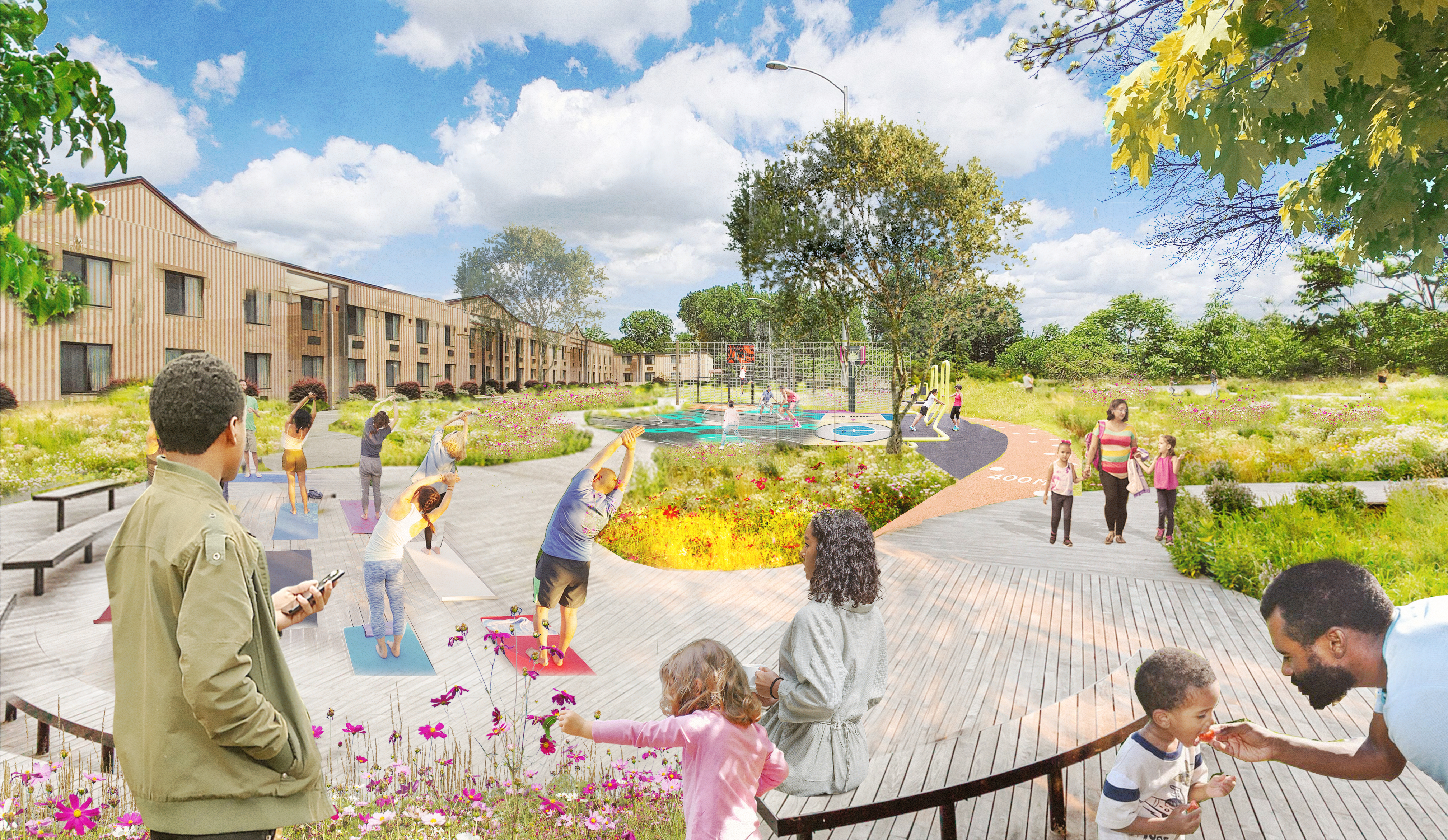 Related Posts