TRAVEL: A family tree dipped in chocolate | Lifestyles
During a fall road trip through North Dakota a resident of Grand Forks mentioned a local candy shop operated by a fourth-generation member of a family known for crafting fine chocolates. This was valuable information for a couple of chocoholics who headed downtown to put in practice former President Ronald Reagan's famed proverb "Trust, but verify."
Visiting the store we met owner Dan Widman and learned the family has been in the candy-making business since 1885 when his great grandfather William Widman opened a bakery and candy shop in Dubuque, Iowa.
William's son, George, worked for the Pearson Candy Company (home of the famed "7-Up candy bar) before opening his own store in Crookston, Minnesota. Family descendants continued in the business with Dan's sister now operating Carol Widman's Candy Company in Fargo and brother, George III, running Widman's Candy Shop in nearby Crookston, Minnesota.
You might say the Widman clan has emerged as "The Sweet Triangle of Chocolate of the Upper Plains." We had passed through Crookston earlier in the day before learning about George's chocolate shop, but after talking with Dan we made plans to visit Carol's store in Fargo.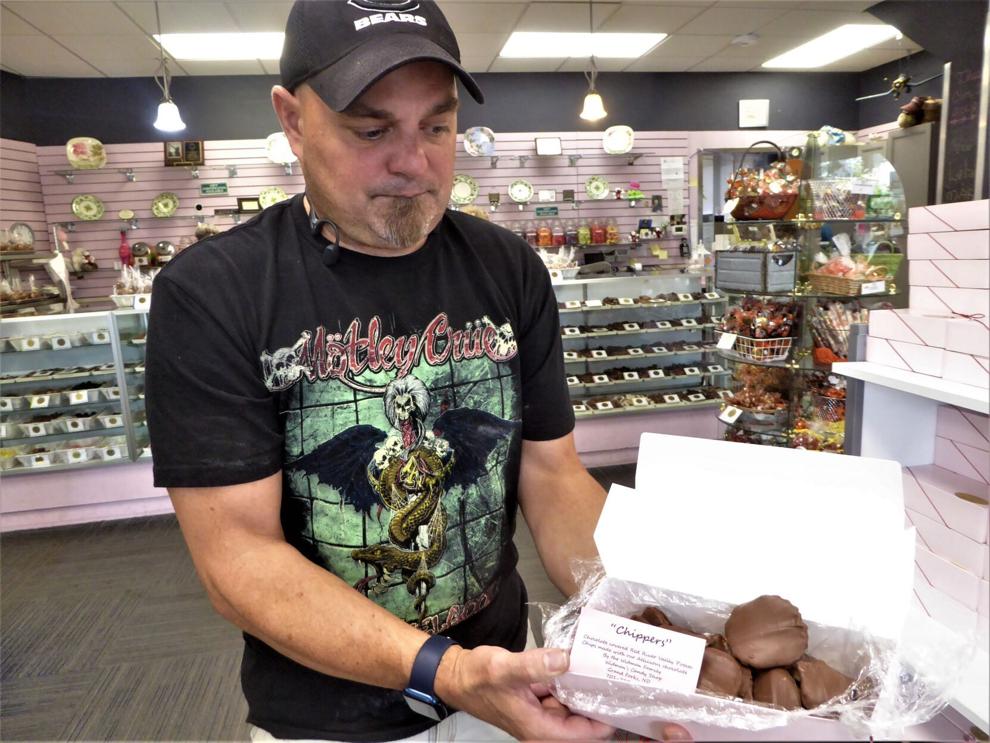 George, original owner of the Crookston store and grandfather of Dan, Carol and George III, is credited with creating the family's best-selling product, the "Chipper," a potato chip hand-dipped in milk chocolate. The Chipper is offered in all three stores and to call it delicious is an understatement. The family members share new product ideas, but each Widman creates unique chocolate items. Dan's nephew Shawn, who assists in the Grand Forks store commented, "A lot of experimenting goes on here but not every item is successful." After sampling a "Chipper," Dan and Shawn offered a few of their more unusual varieties including hand-dipped chocolate-covered dill pickle chips, green olives and jalapenos. The latter brought forth tears of joy.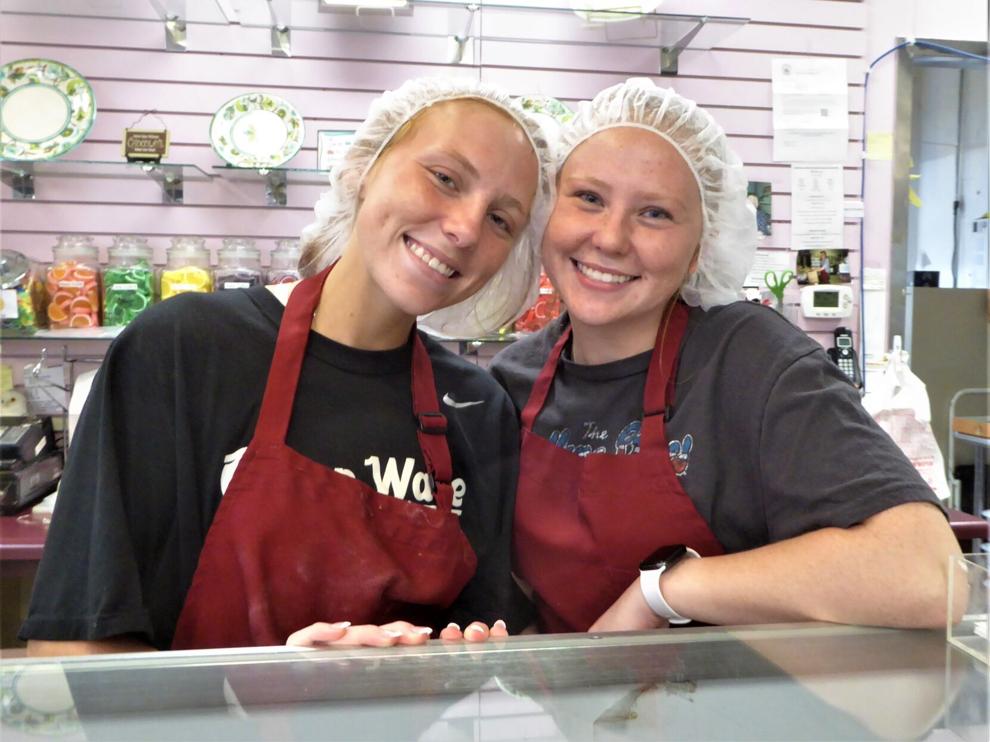 Joking that the store's amazing assortment of hand-dipped chocolates covered everything from A to Z, Dan presented a sheet listing 83 varieties of chocolates that ranged from Almond Bark to Zummies (consisting of caramel and chocolate fudge). Full disclosure: No variety started with Q or X. One particularly unusual item was the Gourmet Taco consisting of a flat-bottomed taco shell dipped in chocolate and filled with a variety of chocolate-dipped candies.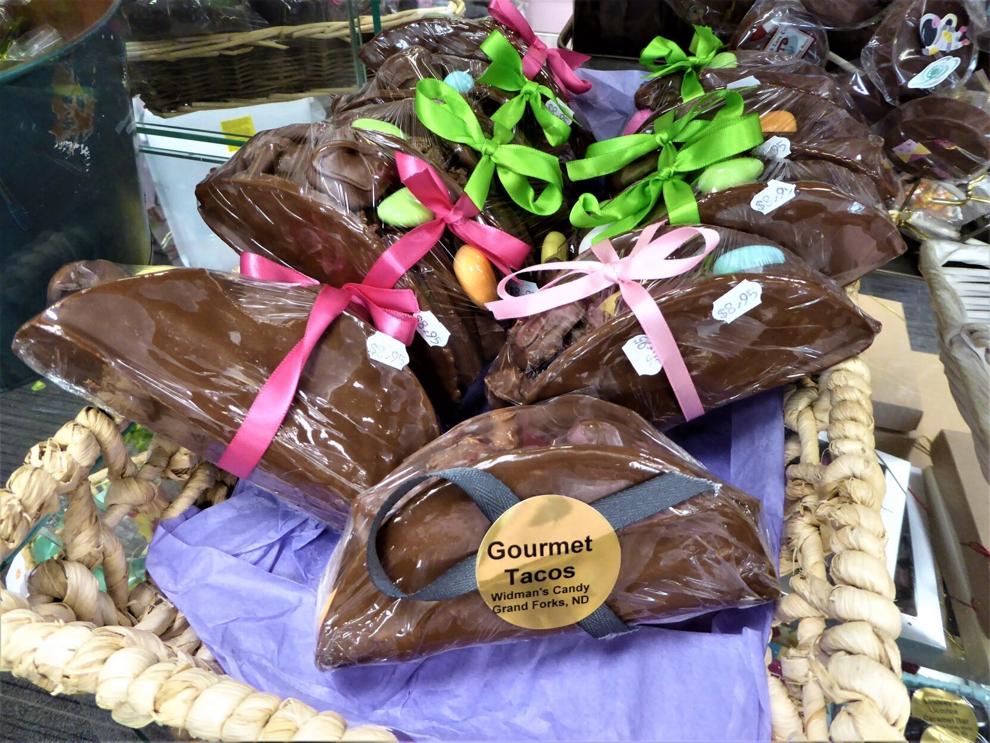 Several days later we visited with Carol Widman Kennedy and husband, David, at the Fargo store. Discussing the family business with Carol we discovered yet more unusual chocolate-covered varieties including Baby Spuds (peanut butter, marshmallow crème and crushed potato chips), Snow on the Mountain (coconut cluster topped with almond bark) and Mud Worms (gummi worms dipped in chocolate). Several varieties have been named to honor the persons who created them such as Carol's Susie K's (coconut and caramel) and David's Dave's North Dakota Cow Pies (caramel, pecans and marshmallow crème).
In addition to specialty items the three Widman stores also offer familiar candy treats including caramels, toffee, turtles, crèmes, clusters, bark, and fudge. Crèmes are available in several flavors: lemon, orange, raspberry, peppermint, maple, maple nut, vanilla and, of course, chocolate. Clusters are made with various nut varieties along with coconut and cranberry. Dan had mentioned varieties that sell well in one shop aren't always successful in the other stores. Carol makes a cherry nut fudge that folks in Fargo love, but the product didn't go over as well in Dan's Grand Forks store.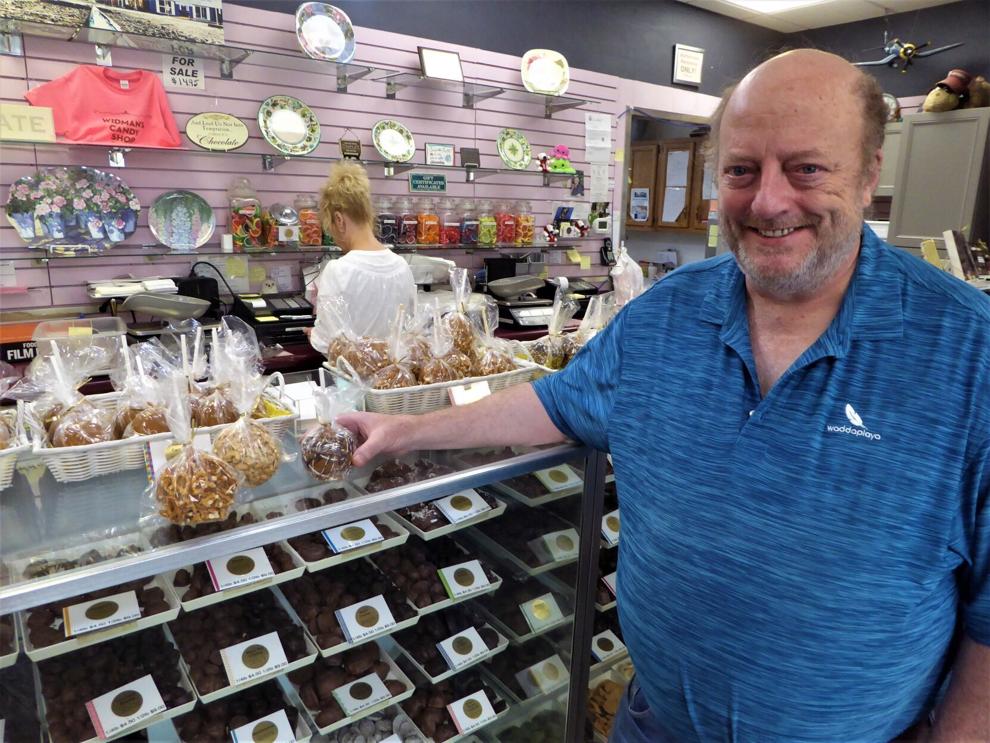 Not all varieties are made daily and a few, including divinity and caramel apples, are seasonal, with the latter appearing on the shelves shortly after Labor Day. In addition to a plain caramel apple, various nuts are utilized as coatings. A new variety created the day prior to our visit to the Grand Forks store had been named S'more. This apple was covered with chocolate, marshmallow crème and graham cracker crumbs.
Not surprisingly, the holiday season is the busiest period at each location. Dan said customers line up out the door when the calendar winds down toward Christmas. During this busy period both Carol and Dave attempt to hire up to 30 additional employees to help in dipping chips, caramels, nuts and more in chocolate.
Strolling into a Widman store must be much like arriving in heaven, but with the addition of the sweet smell of chocolate. Viewing the bright, colorful displays of gift trays and baskets along with glass cases overflowing with dozens of varieties of hand-dipped chocolates will bring a smile to anyone's face. It has been said that "money can't buy happiness, but it can buy chocolate." At a Widman store it buys both.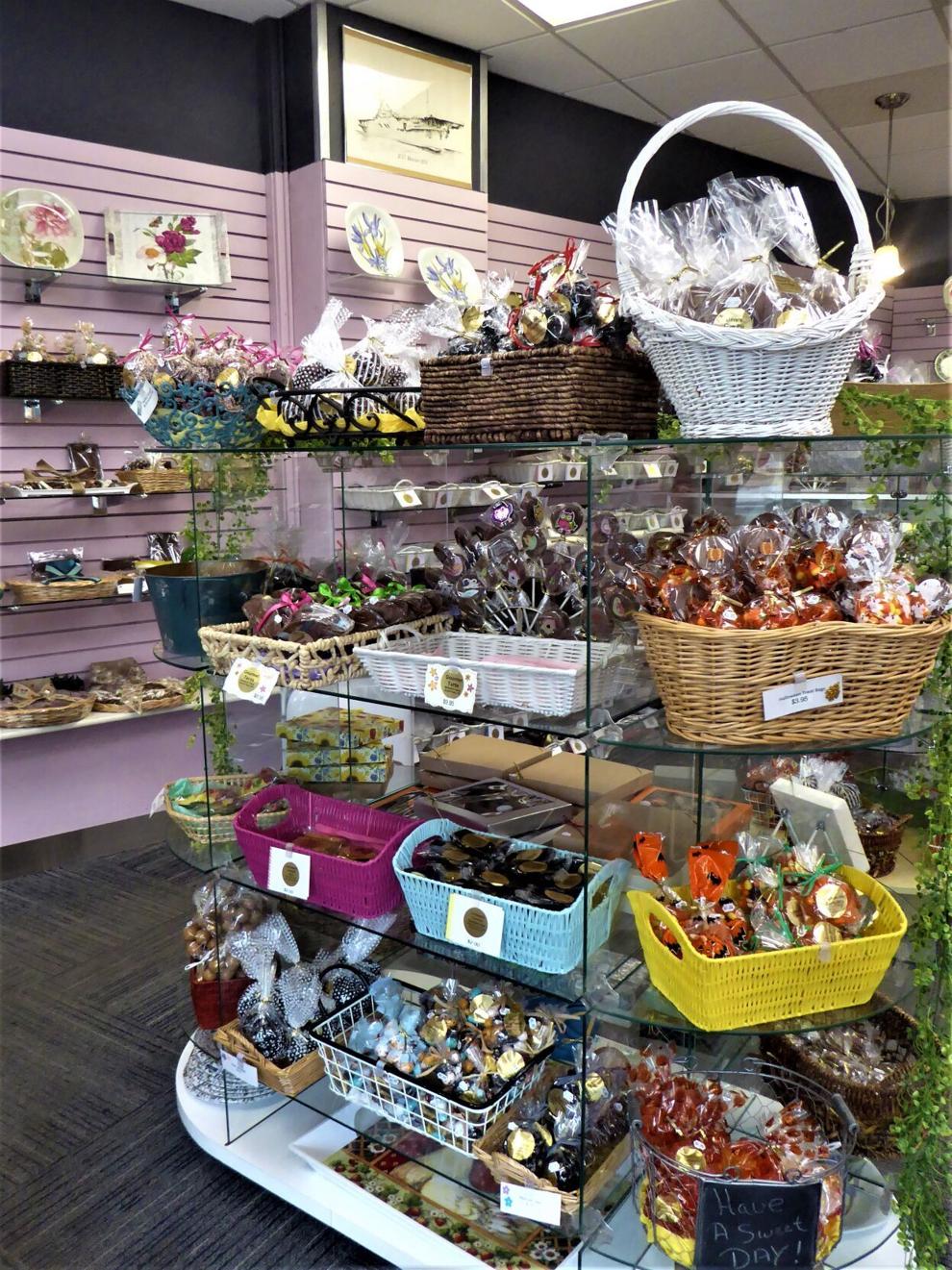 Kay and David Scott are authors of "Exploring the Oregon Trail: America's Historic Road Trip" (Globe Pequot). They live in Valdosta, Georgia. Visit them at blog.valdosta.edu/dlscott.
Related Posts