Travel guru Simon takes a tour of local cemeteries
LEADING journalist and This Morning travel expert Simon Calder has visited West Belfast while attending an event in the Europa Hotel.
 
Calder, who writes for the Independent and offers expert advice on the ITV morning magazine programme, was joined by his wife Charlotte for a tour of both City and Milltown cemeteries.
 
 Local tour guide Dara Barrett said that he was contacted by Simon via social media a few months back asking for a tour when he was next in the city.
 
"A couple of weeks ago Simon had got in touch again to ask if he could do my Milltown tour on Saturday," said Dara. "I told him we are best starting in the City Cemetery as that is where the story of Milltown starts with the underground wall.
 
"Simon and his wife arrived at the cemetery straight from their flight and as soon as they got out of the taxi, the rain started, the wind started, and it was absolutely freezing.
 
"We visited the grave of the first victim of the Titanic, Samuel Joseph Scott. We went to the underground wall, up Gallagher's Steps and along Orange Row, but the rain showed no sign of stopping."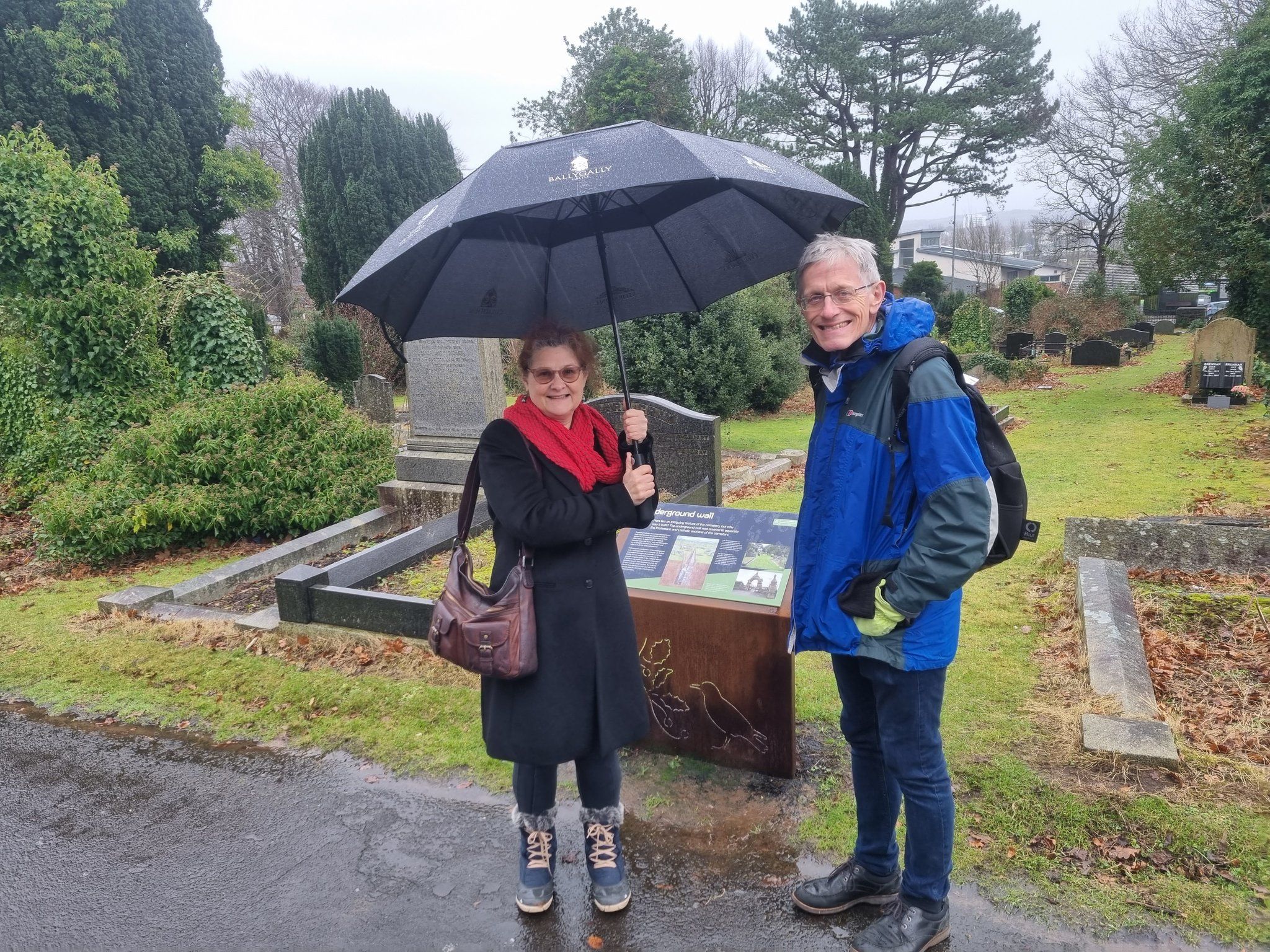 Dara then brought Simon and Charlotte to Milltown Cemetery, where they first visited the grave of Darby O'Gill actor Albert Sharpe as well as the graves of Polish airmen, Tom Williams, Titanic survivor John McGrogan and the Republican Plot.
 
"Simon had been attending a conference in the Europa and I felt guilty that it rained but you just cannot predict the weather," Dara continued.
 
"The next time that he is back in Belfast I intend to take him on a car tour around the city to join the dots and continue the rest of the story.
 
"He and Charlotte are a lovely couple and appeared to enjoy the tour despite the weather."
 
While Dara offers tours of both cemeteries each weekend, he has also branched out to offer virtual tours to combat our unpredictable weather.
 
"About five years ago the Housing Executive asked if I could condense the tour into a 45-minute virtual tour with the use of drones and archives.
 
"Now I visit schools and community groups, show the tour on the screen virtually and you feel like you are there in the cemetery.
 
"That has become very popular and next week I will be taking it to Foodstock on the Andersonstown Road."
 
Dara said the virtual tour allows people to gain a different perspective from his in-person tour as it allows him to show more detailed information on the screen.
For further information on Dara's tours visit the Memory Lane Tours website.

Do you have something to say on this issue? If so, submit a letter for publication to Conor McParland at [email protected] or write to Editor Anthony Neeson at Andersonstown News/North Belfast News, Teach Basil, 2 Hannahstown Hill, Belfast BT17 0LT
Related Posts