Your Guide to the Best Hotels in Downtown Philly and Beyond
With a thriving art scene, stellar sports teams, and historical landmarks, it's no wonder Philadelphia is an incredibly popular travel destination. On top of the city's must-see attractions, there are countless lodging options, with stays suitable for any budget. Here is our list of the 31 best hotels in Philly! 
1. Kimpton Hotel Monaco: Best Hotel in Old City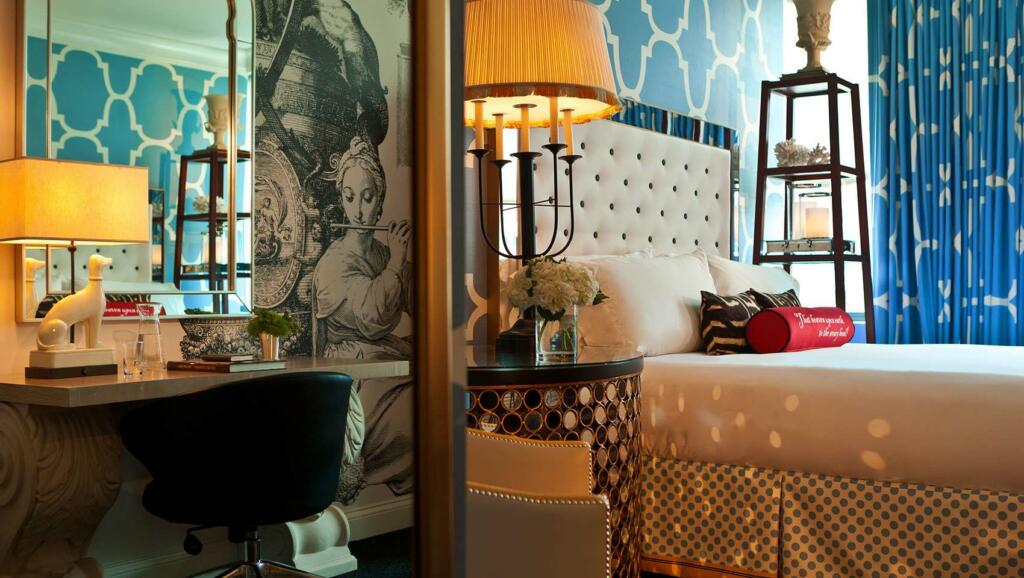 Location: 433 Chestnut St, Philadelphia, PA 19106
Amenities: Custom-designed bikes, complimentary yoga mats, custom-designed Micro Kickboard scooters, evening wine hour, morning coffee & tea service, valet parking, laundry service & shoeshines, fitness center, pet-friendly accommodations, On-Demand Family Fridge Program, and more! 
Relaxing on top of a rooftop overlooking the Liberty Bell sounds like one of the most magical ways to experience Philadelphia's history and that's exactly what you can do in Old City's Kimpton Hotel Monaco! Housed in the historic Lafayette Building, this boutique hotel is nothing short of vibrant. 
Visitors will be starstruck by the stay's unique design choices, inspired by 'the eccentric discerning traveler,' to seamlessly meld together the old and new. With 286 gorgeous guest rooms, including 27 lush spa layouts and 17 suites, a delicious on-site American tavern, and an overwhelming list of incredible amenities, the Kimpton Hotel Monaco is definitely one of the best boutique hotels in Philadelphia! 
This stylish gem is also incredibly family-friendly, with suites geared toward group getaways. The stay even has its very own On-Demand Family Fridge Program, which was created to aid guests in safely and conveniently storing breast milk during their stay. Visitors can request a personal 'Mini Me Milk Fridge,' hand-delivered to their room. 
2. Four Seasons: Best Luxury Hotel in Philadelphia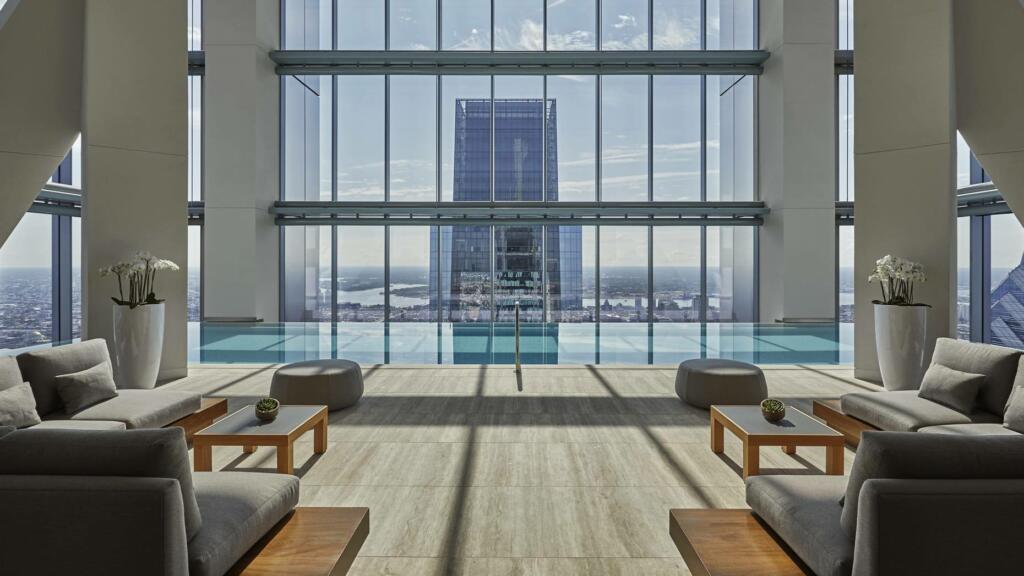 Location: 1 N 19th St, Philadelphia, PA 19103 (Comcast Center) 
Amenities: Four on-site restaurants (including a cocktail lounge & coffee bar), spa with seven treatment rooms, boutique hair salon & nail bar, 57th-floor indoor infinity pool, fitness center, Comcast X1 in-room video experience, small & large private event spaces, and more!  
With the city's only infinity-edge pool, floor-to-ceiling windows in every guest room, suites with oval tubs and walk-in closets, and a lavish spa with more than 700 lbs of healing crystals cemented in its walls, it's no wonder the Four Seasons is often named one of the best luxury hotels in Philadelphia! 
Housed in the sleek Comcast Center, this elegant hotel is the textbook definition of a 5-star overnight experience. After an exciting day of exploring the town, guests can sink into the Four Seasons' heated 30,000-gallon pool, indulge in an aromatherapy massage, or take in panoramic city views while savoring a sophisticated dish at Jean-Georges Philadelphia! 
Situated in the heart of Center City, the opulent stay is an ideal starting point for both business and leisure. Whether you are a first-time visitor with a packed itinerary or a frequent friend of the city, the Four Seasons will give you unparalleled service and memories to last a lifetime. 
3. Motto by Hilton: Best Affordable Hotel in Philly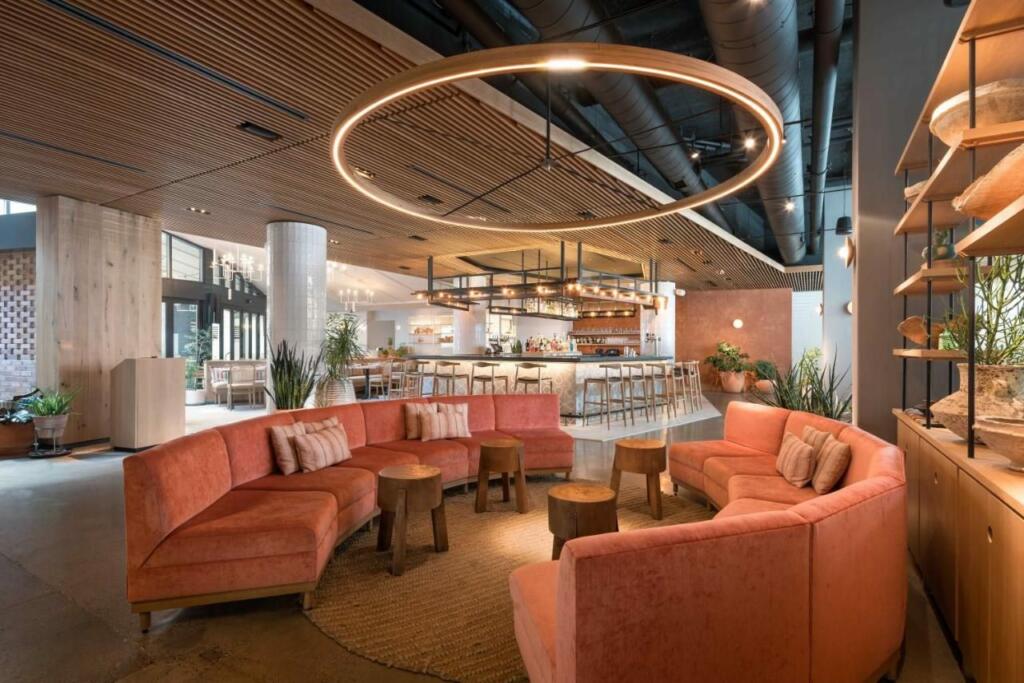 Location: 31 S 19th St, Philadelphia, PA 19103 
Amenities: On-site restaurants (including a rooftop taqueria), fitness center, meeting rooms, boutique, and more! 
When it comes to chic digs at an affordable price, you really can't beat Motto! Located right downtown, this perfectly nicknamed "micro-hotel" is within walking distance to iconic destinations such as Rittenhouse Square, LOVE Park, and the Philadelphia Museum of Art. Their rooms are compact and cozy with contemporary flair, ideal for solo travelers and couples! 
To foodies' delight, Motto also has a collection of vibrant Mexican eateries on-site! Guests can relish in tasty dishes and cocktails at Condesa, stop by El Café for quick bites on the go, or take in skyline views at El Techo, the 11th-floor rooftop taqueria complete with a state-of-the-art retractable glass roof for year-round enjoyment. 
4. ROOST: Best Hotel in Midtown Philadelphia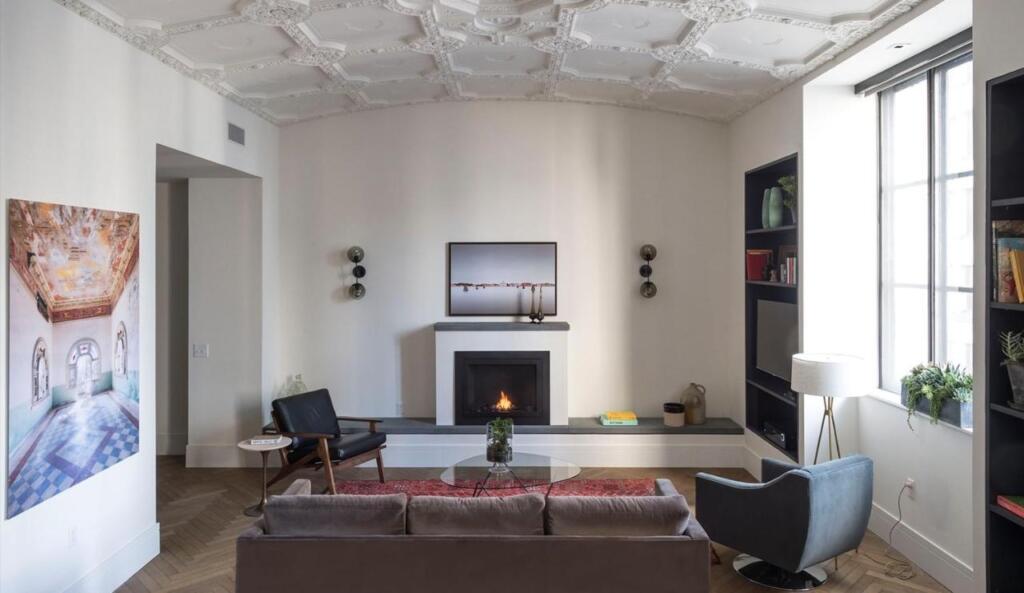 Location: 111 S 15th St, Philadelphia, PA 19102
Amenities: Fully equipped kitchens, 24/7 front desk/concierge, on-site maintenance, technology (Bang & Olufsen stereo, 48" 4K televisions with Apple TV), bike share, rooftop patio, and more! 
ROOST takes the phrase "home away from home" to the next level with their stunning apartment-style hotel rooms! Ideal for staycations, long-term trips, or recurring visits to the city, their rooms will make you feel like you were transported into a design magazine, with vintage rugs, unique artwork, king-sized beds, and towering ceilings. 
Each space has a modern kitchen with full-sized appliances, as well as top-of-the-line professional cookware, designer glass and tableware, and tools by OXO. 'Residents' of ROOST can also take advantage of a plethora of fun amenities, including their lending library, complete with library cards that show reviews from past guests. 
If you're a connoisseur when it comes to your morning cup of joe, you will absolutely love the stay's coffee program! ROOST ensures that every apartment is fully stocked with fresh La Colombe beans, premium coffee makers, grinders, and more. This stay truly has it all, making it an obvious pick for one of the best hotels in downtown Philadelphia! 
5. The Study: Best Hotel in University City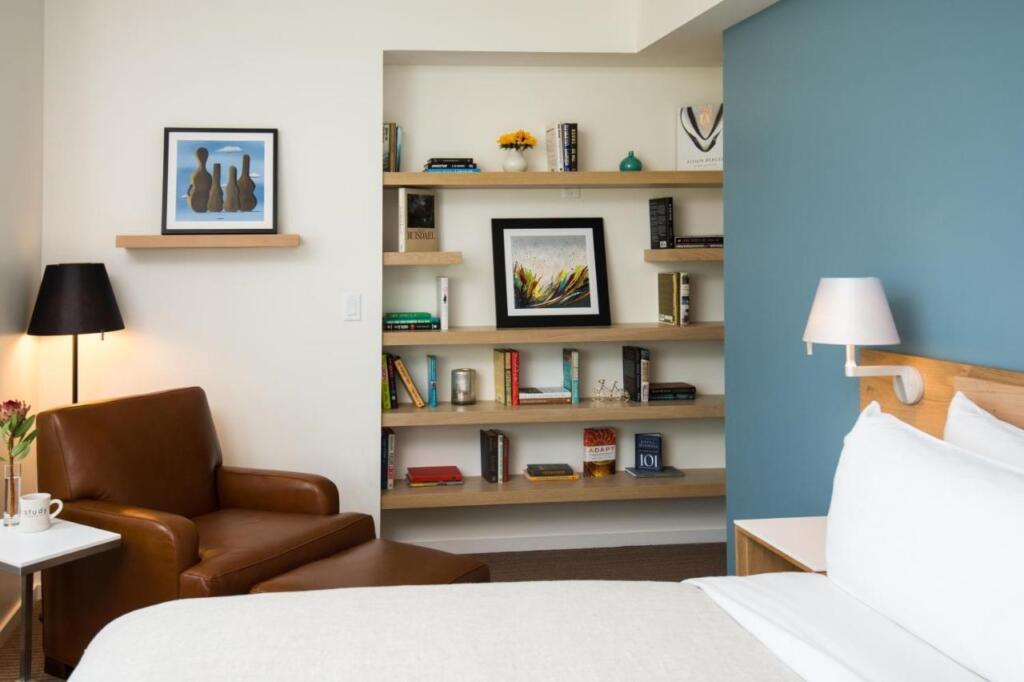 Location: 20 S 33rd St, Philadelphia, PA 19104
Amenities: On-site restaurant, "Living Room" lounge & cafe, fitness center, art gallery in collaboration with Drexel University's Westphal College of Media Arts and Design, meeting & event space, and more! 
Whether you're looking to stay in University City to tour a school or just enjoy the vibe of the area, the Study has become a go-to stay for locals and visitors alike! Located right on Drexel University's campus, this mod hotel combines sophisticated style with the cozy aesthetic of a home library, with a curated art gallery and a "Living Room" complete with picturesque bookshelves. 
The Study has successfully infused the rich culture of the city into every aspect of their guests' experience, paired with pristine suites and luxury amenities. With nothing but rave reviews, it has easily become one of the best boutique hotels in Philadelphia. 
6. Guild House: Best Historic Hotel in Philly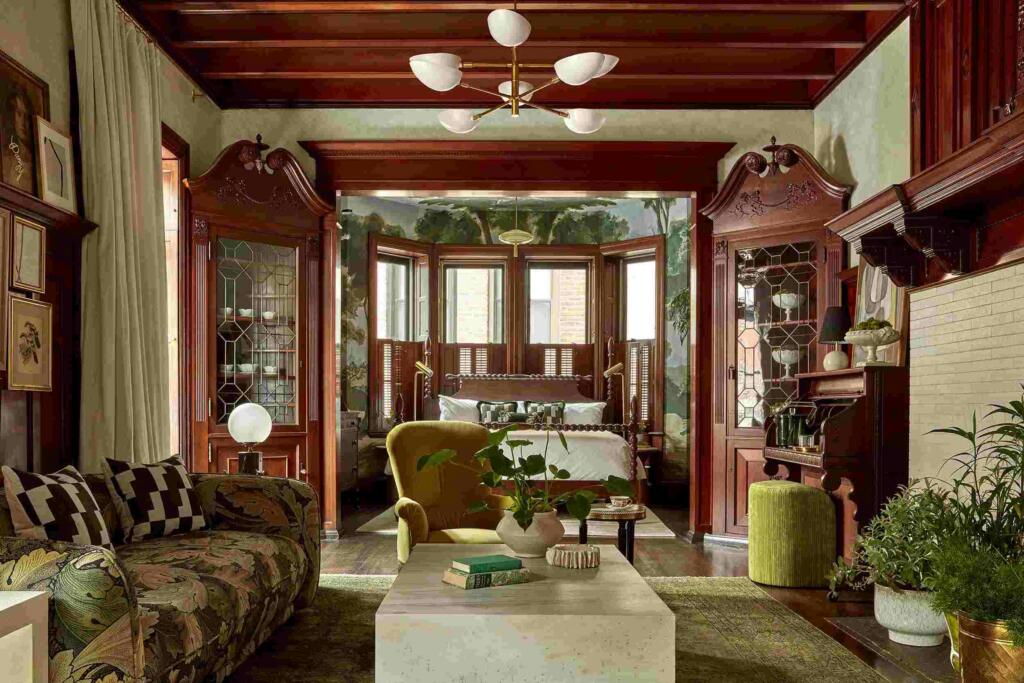 Location: 1307 Locust St, Philadelphia, PA 19107
Amenities: "Invisible" service (guests have the house entirely to themselves, with staff on call 24 hours a day), customized itineraries, on-site parking (first come, first serve), airport pickup, and more! 
If you want a glimpse into staying in the 5-star rated Guild House, imagine a boutique hotel that flawlessly pairs luxurious modern amenities with unparalleled historic charm. The rowhome that houses this ornate stay was once the location of the New Century Guild, a trailblazing club assembled in 1882 to support Philadelphia's growing population of working women. 
Though the Guild House has a different purpose in the city now, its keepers have gone to great lengths to keep its past alive and honor its notable inhabitants. Each room and suite is named after and inspired by one of the remarkable women of the Guild. For example, guests can stay in the whimsical 'Alice' split-level suite, dedicated to Dr. Alice Norton, who was responsible for the Guild's musical and theatrical productions. 
Located in lively Washington Square West, this LGBTQ-friendly boutique is proud to be a part of Philadelphia's inclusive Midtown Village, lovingly nicknamed the 'Gayborhood.' After taking a trip to the past in the Guild House, guests can celebrate Philly's present and future at nearby eateries and art museums just steps away from the property! 
7. The Lokal: Best Hotel for Couples in Philadelphia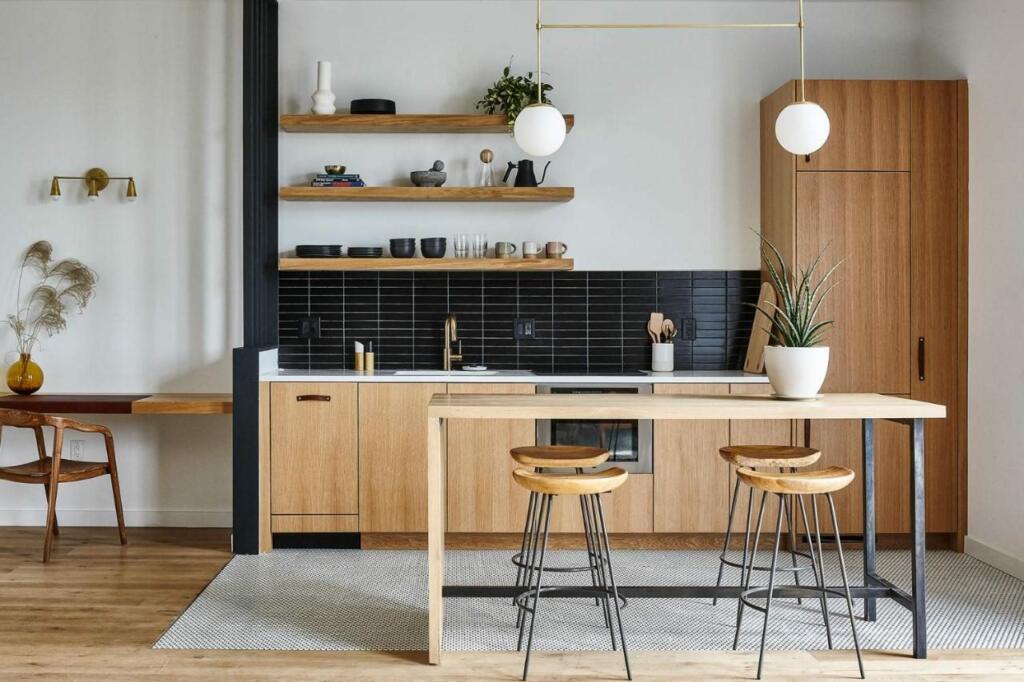 Location: 1421 N Front St, Philadelphia, PA 19122
Amenities: Apartment-style hotel rooms, full kitchens, on-site laundry, smart TVs with HBO & Netflix, Sonos Soundbar music setup, courtyard & garden, and more! 
The Lokal is the epitome of design goals, with apartment-style layouts that are quite literally Pinterest-board perfect. Located in Fishtown, this luxury boutique is wholeheartedly dedicated to Philadelphia and the talented locals that make it such a special place to visit. The six-room hotel was crafted by a group of 30 "Lokal Makers" and is completely run by Philadelphia locals. 
Between handcrafted furniture made right in town, room layouts titled 'Baller Jawn,' and tourist recommendations from insiders based in the area, visitors can rest assured that they will have the full Philadelphia experience when they stay with the Lokal. On top of their 5-star amenities, the stay offers guests "invisible service," meaning there is no on-site staff (though they are available 24/7 virtually). 
With nothing but privacy, modern design, and countless cool spots to check out just steps away, the Lokal is definitely one of the best stays for couples in town. Whether you are planning a surprise romantic getaway or commemorating a milestone anniversary, when you stay at this Fishtown boutique, you will certainly be celebrating intimately and in style. 
8. The Warwick: Best Hotel for Families in Philly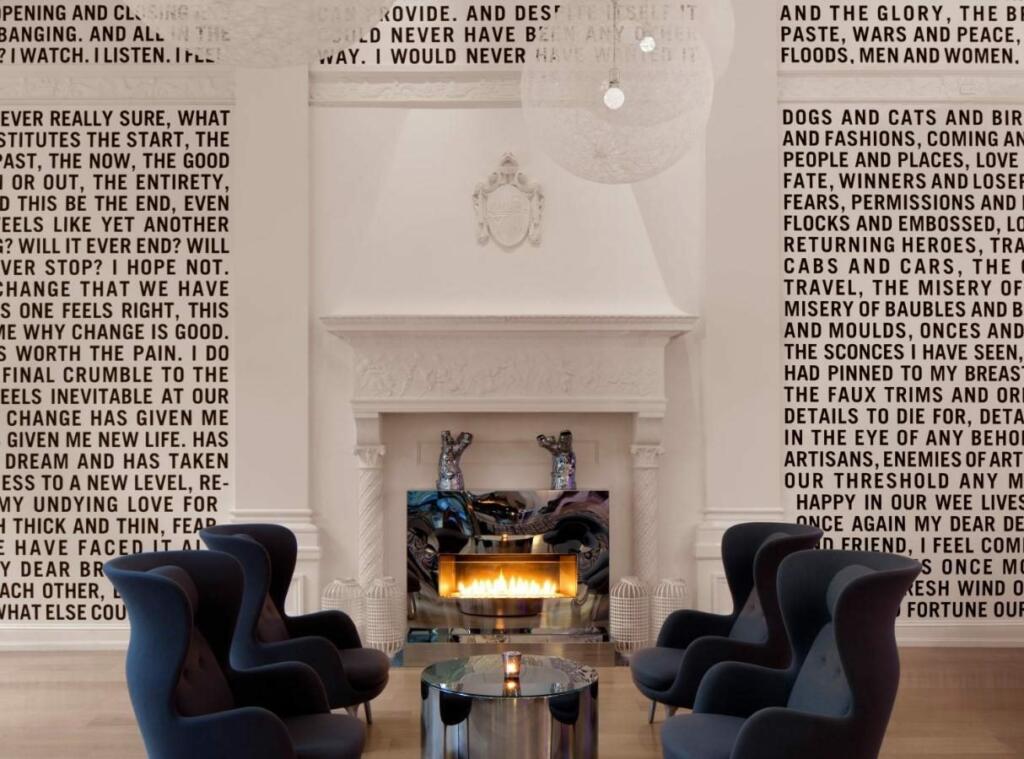 Location: 220 S 17th St, Philadelphia, PA 19103
Amenities: On-site eateries, dog-friendly rooms, laundry facilities, business center, 24-hour fitness center, valet parking & self-parking secure garage, hair salon, and more! 
The Warwick is easily one of the best luxury hotels in Philadelphia, but did you know they offer incredible accommodations for families in particular? Not only does this historic boutique stay deliver luxe amenities, contemporary design, sizable rooms, and classy dining options, but their staff is dedicated to offering family-friendly experiences for all visitors. 
If you are staying overnight at the Warwick with any young visitors, you can expect special kid-friendly surprises during check-in, including a special gift bag! Goodies include a coloring book, crayons, and a 'scavenger-hunt-type' adventure packet with activities to complete around town. The stay also offers children's room service menus, as well as cribs for parents with babies. 
While there are countless reasons to love the Warwick, their kid-friendly accommodations stand out above the rest. Amongst its other accomplishments as a high-end stay, the Warwick has earned its title as one of the best hotels in Philadelphia for families. 
9. The Franklin on Rittenhouse: Best Boutique Hotel in Rittenhouse Square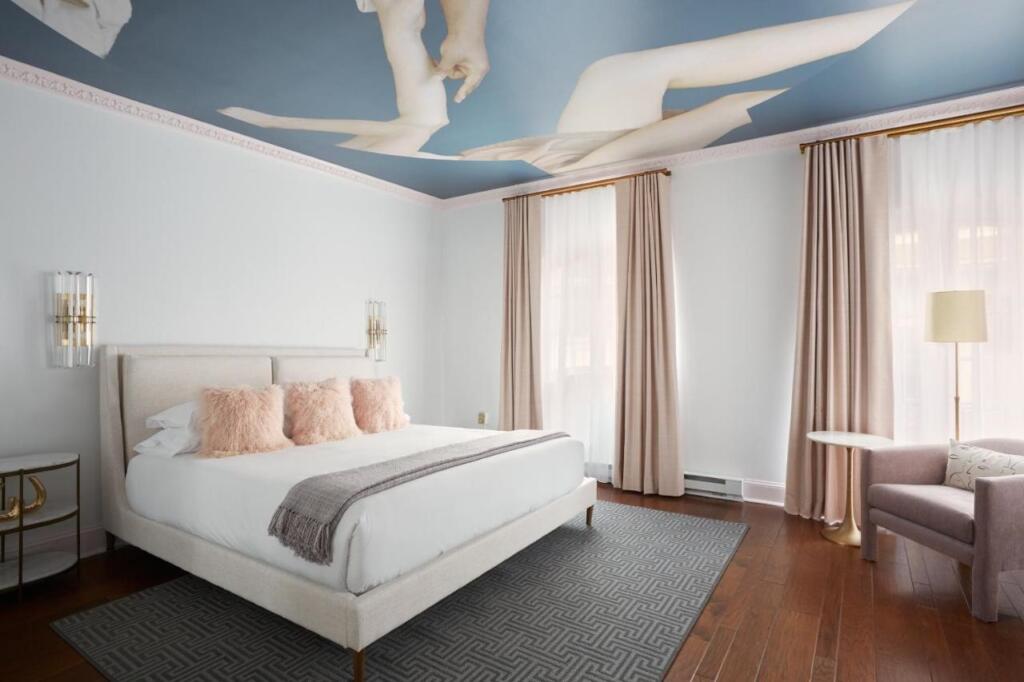 Location: 1715 Rittenhouse Square, Philadelphia, PA
Amenities: On-site bar, complimentary continental breakfast, meeting spaces, and more! 
Without realizing it, you have likely already seen the iconic red door of the Franklin on Rittenhouse in hundreds of photographs. Located in the timeless Rittenhouse-Fitler Historic District, this historic property now houses one of the best boutique hotels in Philadelphia, complete with a speakeasy, suites with marble bathrooms and fireplaces, and luxury amenities fit for royalty. 
The rooms at this boutique stay are some of the most charming, and unique in town, with rich color palettes and even detailed murals in select rooms. Aside from deluxe rooms, guests can also delight in the hotel's hidden bar and transport to the Prohibition Era, with Art Deco decor and even a functioning absinthe fountain from the 1930s! 
10. Loews: Best Pet-Friendly Hotel in Philadelphia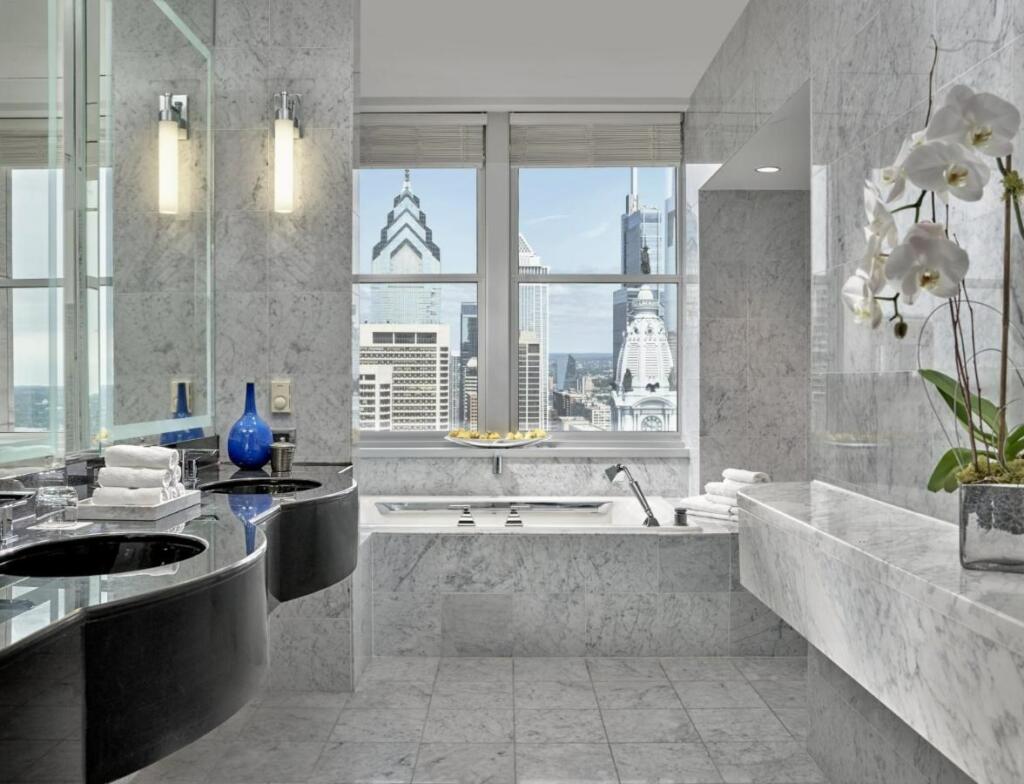 Location: 1200 Market St, Philadelphia, PA 19107
Amenities: Luxury pet perks, on-site restaurant, fitness center, spa, FedEx center, 
Furry friends deserve 5-star pampering too! Located inside one of the country's first modern skyscrapers, this luxury hotel is every pet's paradise. Thanks to 'Loews Loves Pets,' launched in 2000 as the first-ever national hotel chain pet program, your companion will receive delicious treats, clean bowls, and personal placemats right at check-in! 
Additional pet perks include gourmet room service menus catered specifically to cats and dogs, creature comforts including cozy bedding, leashes and collars, litterboxes and litter, toys, and more. Staff will also happily provide dog-walking maps, doggie waste bags, and even personalized recommendations for local pet-friendly parks and restaurants. 
With so many thoughtfully curated amenities, the Lowes is definitely one of the best hotels for families in Philadelphia, especially those with pets! 
11. The Ritz-Carlton 
Location: 10 Ave Of The Arts, Philadelphia, PA 19102
From glamorous suites adorned with chandeliers to mouthwatering Latin-inspired meals at on-site restaurant Aqimero, the Ritz-Carlton is one of the best hotels in downtown Philadelphia.
12. Wm. Mulherin's Sons
Location: 1355 N Front St, Philadelphia, PA 19122
Fishtown-based Wm. Mulherin's Sons was once an 1800s whiskey factory and is now one of the coolest luxury hotels in Philadelphia, housing four flawlessly decorated hotel rooms, as well as a buzzing Italian restaurant. 
13. AKA Rittenhouse 
Location: 135 S 18th St, Philadelphia, PA 19103
Situated right across from Rittenhouse Square, AKA offers breathtaking apartment-style studios and suites ideal for long-term stays paired with 5-star amenities, making it one of Philly's best hotels. 
14. The Philadelphia Hotel Bella Vista
Location: 758 S 10th St, Philadelphia, PA 19147
Housed in an endearing 1860 rowhome, the Philadelphia Hotel Bella Vista is chock-full of character, featuring original hardwood flooring and staircases, Art Deco stained glass, and even two resident kitties! 
15. Sonder The Arco
Location: 1234 Locust St, Philadelphia, PA 19107
Visitors of The Arco can enjoy curated interiors adorned with French countryside wallpaper, timeless colonial architecture, and even innovative perks on the Sonder app, all at a surprisingly affordable rate! 
16. The Rooms at Fitler Club 
Location: 24 S 24th St, Philadelphia, PA 19103
Guests will have access to the coolest private club in town when they book a stay at the Rooms at Fitler Club, a sophisticated 14-bedroom luxury stay that is quickly becoming one of the best hotels in Center City Philadelphia. 
17. The Dwight D 
Location: 256 S 16th St, Philadelphia, PA 19102
Another historic gem located right in the heart of town, the Dwight D offers guests lavish suites inside an 1850s brownstone, complete with garden views, glass-enclosed showers, and even balconies in select rooms. 
18. Le Méridien Philadelphia
Location: 1421 Arch St, Philadelphia, PA 19102
With a chic brasserie on-site, a ballroom with incredible views of City Hall, and a towering 75-foot central atrium courtyard for guests to enjoy, Le Méridien has earned its title as one of the best Philly hotels. 
19. The Notary 
Location: 21 N Juniper St, Philadelphia, PA 19107
Set in the renowned former City Hall Annex building, the Notary is a history enthusiast's paradise, with original marble floors and brass moldings paired with popular on-site eateries and contemporary decor. 
20. Morris House 
Location: 225 S 8th St, Philadelphia, PA 19106
A picture of 18th-century magnificence, the Morris House offers warm and inviting accommodations near a handful of the city's top attractions, making it one of the best boutique hotels in Philadelphia. 
21. The Inn at Penn 
Location: 3600 Sansom St, Philadelphia, PA 19104
Guests who book a stay at the Inn at Penn can discover French-inspired fare at Louie Louie followed by a stroll around the University of Pennsylvania's striking campus, located just feet away from the stay. 
22. Canopy by Hilton  
Location: 1180 Ludlow St, Philadelphia, PA 19107
As another staple stay in Midtown Village, Canopy by Hilton truly has it all with jaw-dropping, stylish interiors, pet-friendly rooms, an on-site cafe, a boutique, and more! 
23. The Rittenhouse Hotel 
Location: 210 W Rittenhouse Square, Philadelphia, PA
The Rittenhouse Hotel is often named one of the best spa hotels in Philadelphia, offering guests access to deluxe restorative treatments including full menus of soothing facials, targeted massages, and even CBD tea foot soaks. 
24. Chestnut Hill Hotel 
Location: 8229 Germantown Ave, Philadelphia, PA
Constructed as an inn in 1894 and briefly a speakeasy during Prohibition, the halls of Chestnut Hill Hotel have a storied past, now offering guests comfortable accommodations including complimentary breakfast and parking. 
25. Sofitel Philadelphia 
Location: 120 S 17th St, Philadelphia, PA 19103
Sofitel is not only one of the best luxury hotels in Philadelphia but also the most eco-friendly, with a collection of forward-thinking green initiatives and even a rooftop garden with 3,000 lbs of soil used to plant organic vegetables!
26. The Bellevue 
Location: 200 S Broad St, Philadelphia, PA 19102
Guests of the Bellevue may never want to leave after unwinding in their grand suites, dining in the opulent XIX Restuarant, and treating themselves to a bit of retail therapy at on-site shops including Nicole Miller, William Sonoma, and Tiffany & Co. 
27. Sosuite at Independence Lofts 
Location: 525 N 11th St, Philadelphia, PA 19123
Originally a factory for paper box production, Sosuite at Independence Lofts ensures that guests feel like locals in no time, with apartment-style layouts and penthouses featuring captivating 12-foot windows, trendy decor, and even private terraces in select rooms. 
28. Hyatt Centric
Location: 1620 Chancellor St, Philadelphia, PA 19103
If you are looking to stay in one of the best hotels in Center City Philadelphia, the Hyatt Centric is an affordable option with spotless suites, a lively on-site eatery, and an impressive fitness center. 
29. The Maj 
Location: 2225 Spring Garden St, Philadelphia, PA 19130
As one of the best cheap hotels in town, the Maj delivers bright, beautifully decorated rooms with on-site dining, a 24-fitness center, and easy access to Philly's top museums. 
30. Live! Casino & Hotel 
Location: 900 Packer Ave, Philadelphia, PA 19148
With premium entertainment for all, Live! Casino & Hotel presents guests with a ritzy 5-star experience featuring free parking, luxurious amenities, and unforgettable fine dining, easily making it one of Philadelphia's best hotels. 
31. Penn's View
Location: 14 N Front St, Philadelphia, PA 19106
Another Old City favorite, Penn's View is one of the best family hotels in Philadelphia, with roomy suites full of charm and numerous kid-friendly activities conveniently located near the property! 
Whether you favor luxurious boutiques, historic properties, or 5-star stays with on-site entertainment, the City of Brotherly Love has countless one-of-a-kind overnight options. No matter what you decide, any choice from our list of the best hotels in Philadelphia will ensure your next trip is the best yet!
Related articles:
Related Posts